Contributing to your account(s)
One of the most important steps in planning for your retirement future is determining the amount you can contribute to your City of Philadelphia Deferred Compensation Plan account(s). With the 457(b) plan, you are in charge of building your retirement savings. They contribution choices are flexible: you have the ability to start, restart, stop or increase at any time. Your contributions are deducted from your paycheck and go directly into the plan(s) you choose.
Contributions can be made on a pre-tax basis or a Roth after-tax basis.
Contribution Methods
Percentage of Pay and Specific Dollar Amount
The City of Philadelphia Deferred Compensation Plan gives you flexibility to select how to contribute to your account(s): you can elect a percentage of your gross pay and/or a specific dollar amount, up to the IRS maximum contribution limits. Use the Paycheck Impact Calculator to get an idea of how your contribution will impact your take home pay, you will need your paycheck stub to go through the process.
If you have questions regarding the option to contribute a percentage of your gross pay, please refer to Frequently Asked Questions or call the customer service team at 1-855-550-1777.
Contribution Increases
Increasing your contributions can make a big impact on your retirement account(s). Even a small increase can make a big difference when it has time to grow. See how the benefits of time and compounding can work together to increase an investor retirement savings.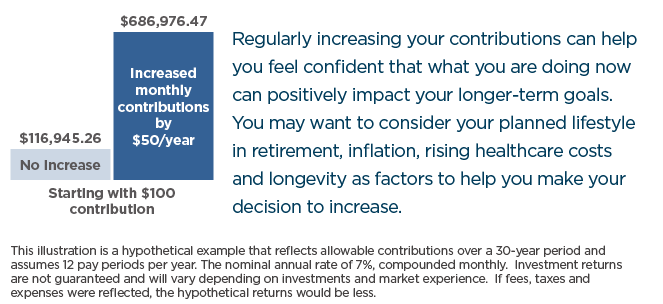 Get the help you need
Contact us to talk about your contribution options. Call 855-550-1777 or visit our Walk-In Center: 
1500 John F. Kennedy Blvd. 
2 Penn Center Plaza, Suite 1705
Philadelphia, PA 19102
Hours: 8 a.m. to 11 p.m. (ET) Monday through Friday (excluding State holidays), 9 a.m. to 6 p.m. Saturdays
NRW-6886PA-PH